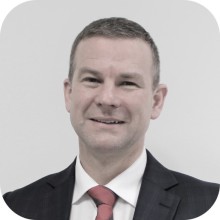 Richard Binner
General Manager Operations
Wellington | Te Whanganui a Tara
Richard Binner is General Manager Operations of Fair Way, New Zealand's largest specialist conflict management and dispute resolution organisation.
Richard has held a number of senior and executive management positions during his career. He has broad experience in developing and executing business strategies, together with leading client relationships, business development and service delivery functions.
At Fair Way, Richard uses his experience to lead and inspire a dedicated and highly capable team of professionals.  He encourages constant process and system improvements to help them excel in their roles and provide a great experience for Fair Way's customers.
Richard joined Fair Way in November 2017 as General Manager: Business Development, having accountability for leading strategic business development and client relationship management for emerging opportunities within the business.  In 2019 Richard became Chief Client Officer, with responsibility for providing strategic and people leadership of all client facing roles and for the effective delivery of all Fair Way's professional services.
As General Manager Operations, Richard works within the Senior Management Team to guide Fair Way's strategic priorities, together with having full operational responsibility for the day to day resourcing and delivery of all Fair Way's professional services.